I have commitment issues. I can't just read one book at a time. And I don't mean that I have to have a "normal" book to read as the same time as, say, my scriptures, which I read all the time anyway.
Right now I have a bookmark in:
1.
As God Is, We May Become
by Steven Colwell
~I haven't actually picked it up since the first chapter, which I read back in April, but the fact that I've made it that far qualifies it for the list.
2.
The Lovely Bones
by Alice Sebold
~I made it to chapter seven in this one, but I needed a break from it. I was watching a lot of Law and Order: SVU at the same time and all the crime got a little overwhelming. I guess I should have retreated to
As God Is
, but instead I picked up...
3.
Bella Tuscany
by Frances Mayes
~The sequel to
Under the Tuscan Sun
, which, although is nothing like the movie I simply adore, is a very good book, one that makes me want to own an ancient Tuscan villa.
Bella Tuscany
is just as good so far. The chapters are rather long, so I'm only on the third or fourth. It's my feel-good book, so I probably won't race through it.
4.
All Creatures Great and Small
by James Herriot
~Did you know James' real last name is Wight? I like Herriot much better. I've read this 5-book series only once, but re-read parts of it a number of times. Since I like it so much and it's so easy to read, I figured this afternoon I'd read the series again. I have yet to start it, but it's open to page one on the couch for me to read right after (or during-- though that would make my mother cringe) dinner.
5.
Nicomachean Ethics
by Aristotle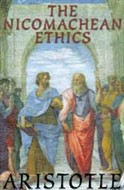 ~I really despise this book. We're reading it in my Greek Lit class right now. It's so painfully boring I got sleepy just reading the table of contents.
By the way, Peter Jackson is making a film version of
The Lovely Bones
, due out this coming January. It's rated R, but it has Rachel Weisz as the girl's mother. Mark Wahlberg plays the dad. It should be interesting. I'll watch it on TV a few years from now when I finish the book.