...Kissed the girls and made them cry...
I'd cry too if a dead goat kissed me.
Aside from that, I have much to tell of! Let's begin with last Saturday, which was my second field trip for my Geology lab. We left at 8am and drove to a very secluded location in the middle of the fog, which was a very pretty spot, and talked about the Cucamonga Fault, which happened because of the pressure bends in the San Andreas Fault. After that we drove a ways to the Mormon Rocks, which are called that because the Mormons stopped there for a while on their way out of San Bernardino, which they founded. There was a brief interlude of bad Mormon jokes on behalf of the students, the main one being that there were creepy Mormon-creatures living in the miniature caves in the rocks. Jokes aside, the formation was pretty awe-inspiring. It was a great mass of light orange, almost vertical-facing rocks that had been pushed up. A train track ran through the formation, creating an empty passage that felt very "old-west". A guy that looked eerily like David Wechter but was a thousand times less cocky had a conversation with me about cameras and photography and the like. It was interesting, and I think he sought me out because we were both there with old cameras with safari-inspiring straps. He also wants to be a cinematographer. Here's a picture of the rocks I didn't take:
After the Mormon Rocks we drove up to the snowy mountains where it was surprisingly hot and looked out over the massive fog-filled valley and talked about how to find gradient, relief, and the plethora of Palona schist rocks that covered parts of the mountainside. There were quite a few jokes about that too, as you can imagine.
We then drove quite a ways through the windy mountains to Devil's Punchbowl, where it was very hot. This was a rather amazing syncline with rocks similar in appearance to the Mormon Rocks. A little river ran through the bottom and rock climbers dotted the walls of the pit.
Here's another picture I didn't take :
Afterward, we got back on the bus, and to everyone's dismay, went further from Long Beach to look at some famous road cut where a very spectacular sample of metamorphic rock could be seen. It looked swirly and cool, but everyone was very disgruntled that they had to be carted an extra half hour out of the way and awoken from their naps. I didn't even bother to take my camera, which is kind of a shame now that I think about it, but I found a perfect picture on the internet, so...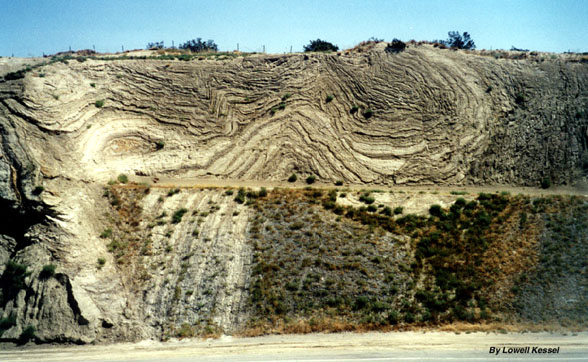 We finally took the three-hour busride in the semi-rain and near-gridlock traffic back to Long Beach, arriving about two hours after we were supposed to, so Charles Fair let us take the test home to do, which was rather exciting, except that I just finished it and it's due in one hour. :0
Sunday was a very nice testimony meeting, I bore mine, which I haven't done in a very long time. At Break the Fast I talked to a guy in our ward who has cerebral palsey and is an aspiring film maker. I offered him my semi-skill in camera crew if he ever needed me. Then we all came home and made waffles. Robert and Justina got Kevin to put peanut butter on his, which is gross. I did not succumb. We then just hung out, and Robert found a very funny video that you must watch, even if you've never seen Star Wars, although I'm more than sure everyone reading this has.
Monday we got our tests back in Archaeology and I got a 92! I can't believe I was so worried about failing it. Dr. Scotton said he'd never been so happy after finishing a pile of the first tests of the semester. I had a lecture at 4 by my archaeology teacher's good friend, a native Greek, about the digs they are doing in the lower town of Mycenae this and last summer. It's pretty exciting, since this very well could prove to have several breakthroughs in Mycenaean history and the only two colleges working on it are Dickinson College (in Greece?) and CSULB, thanks to Dr. Scotton (my teacher)! It's pretty cool.
Tuesday, after I finished my Geology "not lab" test in 15 minutes feeling on top of the world, I had an advising meeting with my department head, and we talked about how cool Dr. Scotton is and how easy it really is to get into the Greek and Roman World classes that go to Greece and Italy in the winter. I then told him I wanted to double in Greek and Roman Civilization studies and he said that was a pretty good idea and that the plan I have laid out for it is a really good one that he never thought of before (at least in terms of how to balance the Greek and Latin classes). I left feeling pretty excited.
After that I asked Kevin if he would answer the model call that's lasting for a couple of weeks. I told him I would do it if he did, but he just dared me to do it and refused to because he thinks he would lose all his friends. So I wandered around carrying my $6 Payless heels in the Student Union looking for the room but couldn't find it. Kevin didn't win though, because I'm going to try again next week.
I then met up with Kevin and we went to part 2 of the lecture "series", which was this time on the theories of human sacrifice in Ancient Greece. Basically, there were a few cases of ritual human sacrifice back in Mycenaean/Minoan times, but these cases were rare, and stopped in reality in the Geometric Period but increased in rumor after that, causing all the confusion. It was a very interesting lecture, and made me even more excited for my new major.
At 7 Kevin and I went to choir, where class was only held for half the time due to the fact that our non-Carmina Burana music hasn't arrived yet so we didn't really have anything to practice. We did a mock run-through of the whole deal, and Dr. Vail imitated the soprano for all her solos, which was very humorous, because that's just the way he is.
Today my class was canceled because of the two extra lectures, so I slept in until 10:44. I made myself a bagel, two scrambled eggs, a banana, a glass of OJ and milk for breakfast. Filling and healthy. I have ballet in an hour, and I have to go make sure my Geology test gets in before the deadline, so now I will take my leave.